The Nexiq USB Link 2 is a hardware device that enables service bay personal computer to retrieve vehicle information using either wireless Bluetooth technology or more traditional cable connection. Once configured, the USB Link 2 interfaces with your PC, enabling you to use specific PC applications to perform vehicle diagnostics.
Dependable and rugged, the new USB-Link 2 is five times faster than its predecessor. It has sixteen times more random access memory than the old USB-Link, and it supports heavier bus loads on simultaneous channels.
The Nexiq USB Link 2 also includes a new Bluetooth* module with an enhanced data rate to support wireless communication (500 b/s J1939). For even more reliability, we've upgraded the USB connector to a more robust, automotive grade connector with a latching mechanism. The USB-Link 2 is compatible with a wide range of OEM software applications.
The Nexiq USB Link 2 comes with the following:
Latching USB Cable (Part # 404032)
9 pin Deutsch Adapter – 1 Meter (Part # 493128)
J1962 Adapter (16-Pin OBD II) – 1 Meter (Part # 493113)
Storage case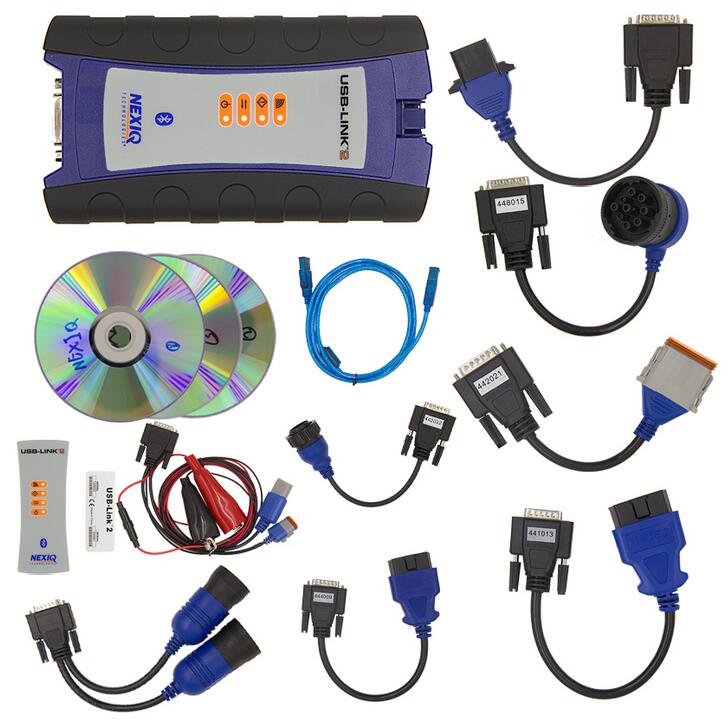 Usability
Class 1 Bluetooth provides up to 100 feet of wireless freedom.
Flexible configuration supports wired or wireless connectivity.
Compatible with applications that diagnose engines, transmissions, ABS, instrument panels and more.
Reduce reprogramming times with direct USB connection.
Mixed fleet capabilities with broad protocol support.
Quick access to vehicle data for maintenance or management reports.
Quickly attaches to vehicle's diagnostic connector.
No messy cables to untangle or get in the way with Bluetooth.
Easy portability increases flexibility.
May be used with desktop PC or laptop.
Wired Connection
Using the USB Link 2 with a wired connection provides the advantage of faster data throughput. For that reason, using a USB connection to the PC is highly recommended when diagnosing heavily-loaded CAN/J1939 buses. By nature, Bluetooth has less bandwidth than USB, which can result in dropped messages in situations requiring high bandwidth. You will want to use a wired connection to the USB Link 2 for ECU reprogramming.
Bluetooth Connection
Wireless connectivity provides untethered operation, and that's a bonus in a busy service bay. The USB Link 2 uses Bluetooth wireless technology to provide wireless communication between the USB Link 2 and your PC.
The USB Link 2 is intended for diagnostic use, for example, retrieving trouble codes. By nature, Bluetooth wireless technology has limited bandwidth and latency when compared to wired solutions. This may result in dropped messages in situations requiring high bandwidth.
 Notice:
1. It Can Not Be Updated, Otherwise, The Multiplexer Will Be Damaged.
2. For Volvo, Hino, Cat and Nissan software, please install them on Windows XP only, other vehicle software can be installed on Win 7.
3. When you change time of your laptop, Cummins Inline software will get locked, please download the attached fileow-to-unlock-cummins-inline" to solve it.
4.Before install the Nexiq-2 software CD,pls reinstall your computer system first,otherwise the multiplexer will be damaged
NEXIQ-2 USB Link Packed Software and Application:
– Allison (Included!)
– Bendix 6.3.8.0 (Included!)
– Detroit Diesel DDDL 7.05 ((Included!)
– Detroit Diesel DDCT (Included!)
– Detroit Diesel Calibration Tool (Included!)
– Eaton Service Ranger 3.2 (Included!)
– International DLB (Included!)
– International ICAP, IPTS, NETS, IPC (Included!)
– International Master Diagnostic (Incluided!)
– Meritor and Wabco Diagnostics (Included!)
– Cummins Insite 7.5 (Included!)
– Hino 2.0.2. (Included!)
– Caterpillar 2.0.1.0 (Included!)
– Perkins EST 2010B (Included!)
– V Macks 2.6.12 (Included!)
– V Macks Dealer Pro (Included!)
– Volvo VCADS 2.35.10 (Included!)
– Toyota Techstream for car (Included!)
NEXIQ-2  USB Link API Support:
RP1210A, RP1210B
J2534-2
USB vehicle-to-PC connectivity, NEXIQ-2 USB linke supports Windows xp and  windows 7 32-bit and 64-bit and windows CE compliant
Not all applications are included. If compatibility confirmation is required, more information is needed, or there are questions about an unlisted application, please contact us, a specialist will help you make the right choice.
NEXIQ-2  Protocol Coverage:
CAN – J1939/CAN125/CAN250/CAN500/CAN1000
2nd CAN – J1939/CAN125/CAN250/CAN500/CAN1000
J1587/J1708 J1850 J2534
ISO 15765 (Diagnostic CAN)
ISO 14230 (KWP2000 over ISO9141) ALDL ATEC 160 (160 baud)
NEXIQ-2 Support Heavy-Duty, Light-and Medium-Duty Trucks, CONSTRUCTION EQUIPMENT like (Wheel loader, Articulated Hauler and Excavator), Genset.
FREE Heavy-Duty Truck Diagnostic Applications:
1.VOLVO TRUCK: FM10, NH565, FH12, FM12, VHD, FH16, FM7, VN, WC, WG, WI, FH565, NH12, FL6, FL7, FL10, FL12, NH525, WX, COMP04, FE, VHD, FH, FM, VM, FM9, F10, F12 , F16, NL10, NL12,VOLVO BUSES: B10B, B10M, B10L, B10R, M10R, B12, B58, B6, B7R, OLYMPIAN, SUPEROLY
2.VOLVO BUS: B12B,B12M,B12R,B6R,B7L,B7R,B9L,B9R,B9S,B9TL,PREVH,PREVX,
3.MACK TRUCKS: V-MAC I, V-MAC II, V-MAC III, V-MAC IV, Service Diagnostic
4.VOLVO CONSTRUCTION EQUIPMENT (CE):
Wheel loader: L110E, L110F, L120E, L120F, L150E, L150F, L180E, L180F, L220E, L220F, L330E, L350F, L60E, L60F, L70E, L70F, L90E, L90F
Articulated Hauler: A25D, A25E, A30D, A30E, A35D, A35E, A40D, A40E, T450D,
Excavator: EC135B, EC140B, EC140C, EC160B, EC160C, EC180B, EC180C, EC210B, EC210C, EC235C, EC240B, EC240C, EC290B, EC290C, EC330B, EC330C, EC360B,EC360C, EC460B, EC460C, EC700C, EC700B, EC700C, ECR145C, ECR235C, ECR305C, EW140B, EW140C, EW145B, EW145C, EW160B, EW160C, EW180B, EW180C, EW200B,EW210C, FC2121C, FC2421C, FC2924C, FC3329C, PL4611
Grader: G710B, G720B, G726B, G730B, G740B, G746B, G780B, G930, G940, G946, G960 , G970, G976, G990
5.Navistar: ALL Diamond Logic Builder (DLB) ServiceMaxx
6.International: ALL Intune, MD32,
7.Freightliner: ALLServiceLink:cascadia,century,columbia,Coronado,classic,FLDSD,4900FA, 4900SA,4900EX.
8.HINO:ENGINE:
300SERIES, 500 SERIES, CR03_J08E, CR03_J05D, COMMONRAIL(J05E), J05D_US, J08E_US,P11C,VCS, Hibrid, Inverter, Brake(ABS), AT_45043LE
9.ISUZU_GMC:
1996-1999 NPR Diesel and F Series Include NPR/W 3500, NPR HD/W 4500, This is for 6.0L V-8 Gasoline Engines only, 7.8L 6HK1 Engine
Isuzu: NPR, NPR HD, NQR, NRR, FTR, FVR, FXR with 6HK1 LG4 Engine, NPR, NPR HD,NQR, NRR with 5.2L (4HK1) or 3.0L (4JJ1) Diesel engine. 6.0L V-8 Gasoline Engine
GM: W3500, W4500, W5500, WT5500, W5500 HD,with 5.2L Diesel Engine Only,T6500,T7500, T8500
10.SCANIA VEHICLE, KOMATSU excavator, and MAN vehicle will be updated.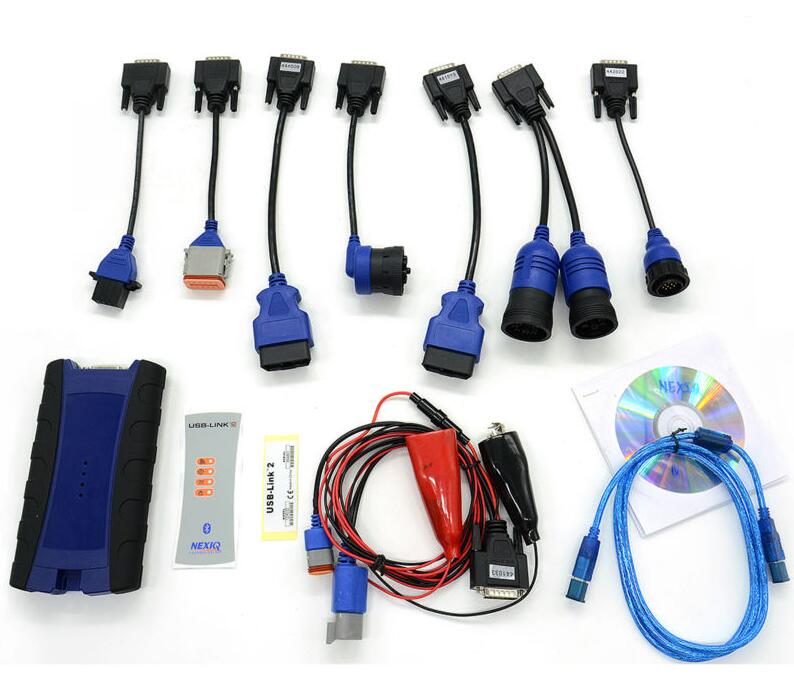 https://www.cnautotool.com/category-39-b0-Heavy+Duty+Diagnostic.html
If you have any problems, don't hesitate to contact us, send email to [email protected]. FREE, Professional & Unlimited Technical Support, Factory Price!