MB Star C6 OEM Xentry VCI DoIP interface is the latest generation diagnostic tool for Mercedes Benz cars and trucks. Works with v03.2021 Xentry software, supports both diagnosis& programming for Mercedes vehicles, covers more functions than sd connect c4 /c5 during scn online coding. This MB STAR C6 works well with new mercedes, supports DAS but not Vediamo.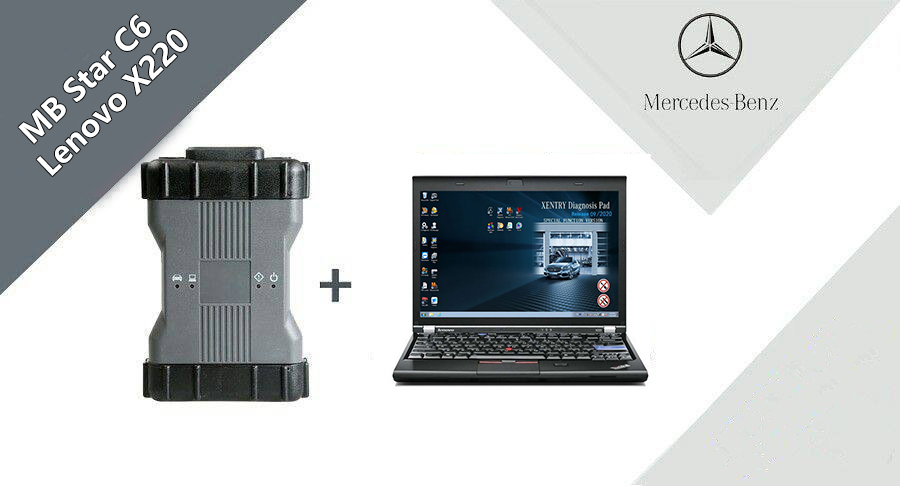 MB Star C6 Diagnostic Tool Overview
1. Compatible Software: VXDIAG For XENTRY Software
2. Support Vehicle: Support new Mercede Benz Vehicles till 2021
3. DoIP: Support DoIP
4. Functions: Star Diagnostic & programming (SCN Coding)
5. OEM XENTRY C6 Software Version: V2021.03
6. Support wifi
What Can MB Star C6 Interface Do?
1. Diagnosing, programming, simulation studying, repair information, automotive maintenance, technical service bulletin and so on
2. Can be used for all model series of for Mercedes Benz vehicles
3. Support DoIP, cover more functions during SCN Coding than SD C4/C5
4. Diagnosis updates no longer necessary – firmware updates required on rare occasions
5. Does not need a power supply unit for external power supply
MB Star C6 Xentry diagnosis VCI Features
1. Dandy multiplexer with a small, sturdy construction (no PC core, battery, fan, or display)
2. Engines (All Gasoline & Diesel Systems)
3. Transmissions and Electronic Selector Modules
4. Airmatic and Active Body Control Suspension Systems
5. Traction Systems: ESP / ASR / ETS / ABS / BAS / SBC braking systems
6. Supplementary Restraint Systems (SRS) / Airbag, All body modules OCP / UCP / LCP / SCM / SKF / KFB / RCM / DCM's
7. Drive Authorisation System
8. Sam (Signal Acquisition) Modules
9. Electronic Ignition System (EIS)
10. Pneumatic System Equipment and ATA functions
11. Air Conditioning / climate control Systems
12. Instrument Cluster
13.Tyre Pressure Control
14. Parktronic System
15. Keyless Go
16. D2b Command & Audio Gateway (D2B and MOST networks)
17. TV Tuner
18. Headlamp Range Adjustment
19. Seat Electronics
20. Rvc, RST & Vario Roof modules
21. Automatic Clutch System ACS
22. M-Class Body Modules (AAM / EAM / DAS / SEM / VG Transfer Case)
23. Assyst & ASSYST + systems
Lenovo T420 Laptop:
Brand: Lenovo
Screen Size:14.0
Memory: 4GB
Processor
Type:Intel (R) Core(TM) I5-3320M CPU
HD:2TB
Type: Laptop/Notebook
Condition: Used
An item that has been used previously. The item may have some signs of cosmetic wear, but is fully operational and functions as intended.
Protocol support:
1.SAE-J2534-1
2.SAE-J2534-2
3.ISO-9141 K-Line
4.ISO-14230 K-Line
5.ISO-15765 K-Line/CAN
6.ISO-11898 DWCAN
7.ISO-11898 DWFTCAN
8.SAE-J1850 VPW(GM Class2)
9.SAE-J1850 PWM(FORD SCP)
10.SAE-J2411 Single Wire CAN(GMLAN)
11.SAE-J2610 SCI(Chrysler)
12.SAE-J2740 GM ALDL
13.SAE-J2809 (HONDA DIAG-H)
14.SAE-J1939 CAN
15.SAE-J1708 On RS 485
16.VAG TP16 CAN
17.VAG TP20 CAN(SAE J2819)
18.VAG KW81(SAE J2818)
19.BMW DS2
20.FORD UBP
21.DOIP
Advantage characteristics
1.Multi in one comprehensive diagnosis instrument VCI of the original factory, one machine is multi-purpose and cost-effective;
2.Comprehensive and perfect DoIP support, not only support but also more perfect adaptation;
3.Realize the functions and speeds that J2534 and other comprehensive original diagnosis instruments cannot achieve;
4.Solve the problem that non doip or other diagnostic instruments are unable to program audio gateway and instruments;
5.Solve the problem that non doip or other diagnostic instruments cannot test the new and old models;
6.The industry takes the lead in supporting and adapting 18 BMW series softwares;
7.The industry takes the lead in supporting the programming software of Toyota and Honda;
8.The industry takes the lead in adapting and supporting Mercedes Benz disassembly and assembly tutorials, diagnostic demonstration programs and third-party line query software;
9.It can perfectly replace C6 and many original diagnostic instruments;
10.Realize all functions of ICOM A2, and realize rapid programming of vehicle control unit;
11.Realize the installation and use of win 10 of Audi ODIS series;
12.Realize all functions of VAS6154;
13.At the same time, it supports SDD and Pathfinder, and can modify the vehicle and program the control unit to read the data quickly;
14.Support all functions of tis software of the main factory, and realize the function of upgrading vehicle power system software that 4S stations at home and abroad can't do at will;
15.Support all functions of the factory's HDS software, so as to realize the function that 4S stations at home and abroad cannot upgrade the vehicle power system software at will;
16.Multi protocol is added to ensure comprehensive adaptation ability and programming function;
17.Support model expansion, such as Volvo, Ford Mazda, GM, Porsche, Subaru, etc;
18.Strongly recommended by the original diagnosis and training experts;
19.The actual measurement of doip programming, no gimmick, with data and facts.
More information at https://www.cnautotool.com/category-192-b0-MB+STAR.html
CnAutotool.com – Professional Auto Diagnostic Tools Supplier.If you have any problems, don't hesitate to contact us, send email to [email protected]. FREE, Professional & Unlimited Technical Support, Factory Price!